We are publishing an interview of Mr. Fevicton Gracias, Founder, Rent a Bike – A Startup which Tries to Eradicate the Pain Point of an Individual While Renting a Bike.
Please tell us about the founders
Before starting up with Rent a Bike, I have been into the corporate world for the last 12+ Years with overall expertise in the IT and Telecom Sector leading large teams in key verticals like Sales, Marketing and Customer Relations.
@ Rent a Bike my role is to look into the overall Business Development and Service Delivery. Technology is another important area that I continuously focus on.
Sapna Khandare has 11+ Years overall experience in IT with key expertise in HR, Sourcing and Business Operations.
@ Rent a Bike Sapna's role is to look into the Operations, Partner Management and Client Relations. We believe that each customer is different and every aspect has to be looked into minutely with customer delivery and satisfaction.
Give us a brief background of what founders were doing before starting the venture. 
Having worked with various MNC's across India like Vodafone Business Services, Arkadin (NTT Group Co.), Intercall (West Corporation), Trimax IT, IP Gates (Co-Founder) has given me a lot of exposure.
Sapna too has a previously worked with Job Consults Inc, Syntel Inc, Zensar Technologies and Global Innovsource.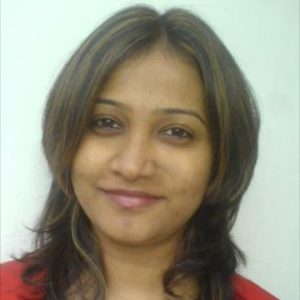 List all the names of the core team members, along with their skill-sets, specific domain expertise & designated roles. 
Getting the right Founding team is our next step as we plan to move into our new "Garage" as we call it- our new office movement happens in the last week of March 2017. Having being bootstrapped, we had to manage on taking baby steps however the leap was more important for us understanding the market dynamics.
What is the problem you are trying to solve? 
On India's busy roads the Biggest challenge what we saw was an individual's liberty to ride a two wheeler was restricted only if they own one or maybe borrowed one. However a commute for a person travelling for work, leisure or weekend travel could be different based on an individual's taste.
Also having working in MNC's across India, we realized that most people are confined to huge spends and time wasted on travel be it Local Transport, Cab or Auto. Why Restrict people was our opinion when the majority of the roads see bikes zooming by.
My own experience gave me an insight on how a bike travel could help people transit faster and make it cost effective in their ride. The distance between my office and home in my last endeavor before moving on full time with Rent a Bike was that I would travel a distance of 35 kms within 70 minutes by bike unlike public transport which would take a easy 2.5 hours or a car that would take me 3 hours on the busy roads of Mumbai.
What challenges did you face when you were starting out? 
When we started out, the biggest challenge that we saw was structuring a completely unorganized market. There were vendors who existed in pockets across various cities however not many people were aware of such a service being offered. With today's consumer wanting all the information at their fingertips in real time for a end to end booking management platform was lacking in the marketplace.
How did you get the initial capital? 
Using our savings and borrowing from Family and Friends was our source of income to start this venture. If I look back into time, I would definitely say the rewards are fruitful having developed a large customer base and growing at almost 75% YoY. We plan to raise our first round of Capital from the market in the next 3 months to venture far and fast.
Please tell us about the Product / Solution. Explain how you went about the Product-Market Fit Process. 
We had inquiries hitting us right from day 1, People was wanting something new apart from the same old routine of Public Transport and Cabs. We have people who call to check when we are starting in their city. Wow is the word here for a perfect Product Market Fix as we venture into 10 new cities this year.
What were your assumptions when you entered the market, learning that you have? 
The biggest learning was "Customer Satisfaction".
What is the insight that you have about this market, which no one else has? Uniqueness about your Startup. 
The bike rental market has a potential to be an alternate mode of commuting.
Numerically its likely to hit a USD 50Mn-USD 70Mn mark by 2020. In terms of our uniqueness would be a technology driven ecosystem for a optimized Bike rental platform in short. A big bang adoption program would be our focus in 2017-18.
What is the strength of the startup and the scale of operations? Who do You Perceive as Your Competition? 
Scale of operations would be in five digits in the number of days our bikes have been rented so far.
What is the revenue model? 
We work on a zero inventory based model with all our vehicles sourced from our partners in each of the locations. Our main focus would be sales and delivery with utmost CSAT.
Who are the consumers that you are targeting? How is this going to affect them? 
Our focus so far had been on Travel tourism in Goa, however in 2017-18 as we expand across major Metros in India, Rent a Bike plans to target the early starters, Office Goers, Weekend Travelers among other plans.
How did you get your first customer? 
Our first customer came in the Dec of 2014, We had just gone live to test the basic frame-ware and by mistake our Developer got us live on the web. By the time we realized it we had our first booking within 2 hours. Our happiness had no bounds to explain however we had to cancel the booking as we were not yet prepared. Operations finally took off in May 2015.
What is the big picture of your startup? Is this Product leading to something bigger? If so, how? 
Yes indeed, Plans would be showcased in phases. Keep tuned.
Since inception, give us a sense of the value of business done by your venture? 
A Quarter million unique visitors so far since inception, 2 Million plus page views
Inquiries and bookings have also been growing strongly in double digit.
What would be your goal to accomplish in the next six months? 
Rent a Bike plans to be a game-changer in the way people travel across India.
What message do you want to convey to fellow entrepreneurs? 
It took me 10 Years after my last startup venture with a friend which I walked away from as a unnamed Co-founder to start Rent a Bike, My message to all you guys would be strongly focused on how you could bring a change, Funding is not always everything but the right mix of product adoption, penetration and customer satisfaction will get the rest on-boarded automatically with time.
Comments
comments